Now is the time to dream and plan! Just because many of us have been on other-imposed or self-imposed travel restrictions, doesn't mean it will always be that way! We are excited about the 4 trips we have planned for you! Don't miss out! We still have a trickle of people signing up but it won't be too long and it will be a flood of people filling these trips to the maximum capacity. Here's the latest update: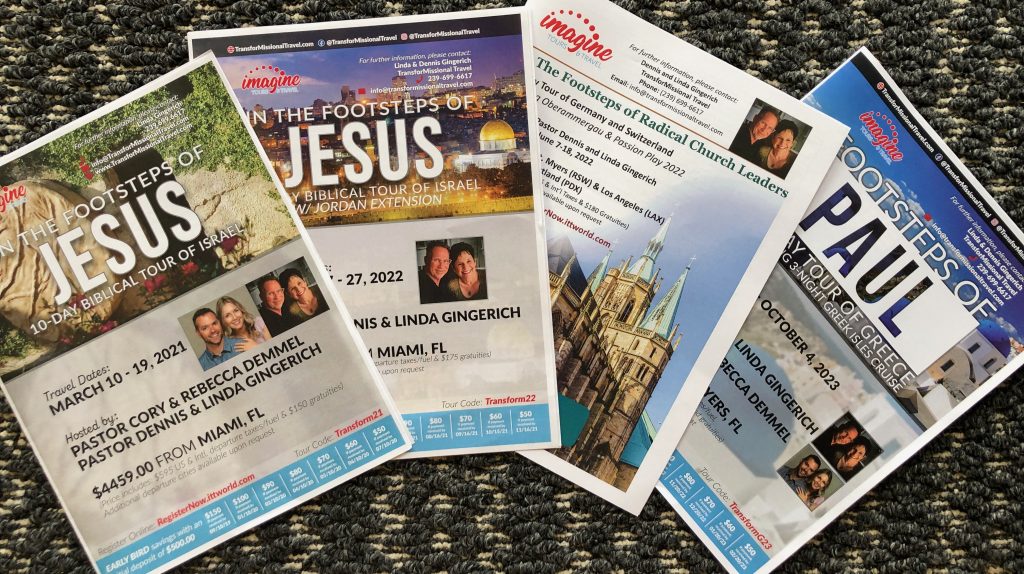 2021 Israel – We have only 3 seats still available on this one. Although the online sign-up link is inactive, we had two more sign up last week by contacting us directly. We then notified our travel company, Imagine Tours and Travel, and the couple sent in their registration by snail mail. You can do the same. Call Linda at 239-699-6617 or email us info@transformissionaltravel.com to let us know your interest or plans. All signs point to Israel being open for groups to travel again in the beginning of 2021 so we are anticipating it will be possible to go in March. And don't forget, Pastor Cory Demmel is planning to co-host this trip with us!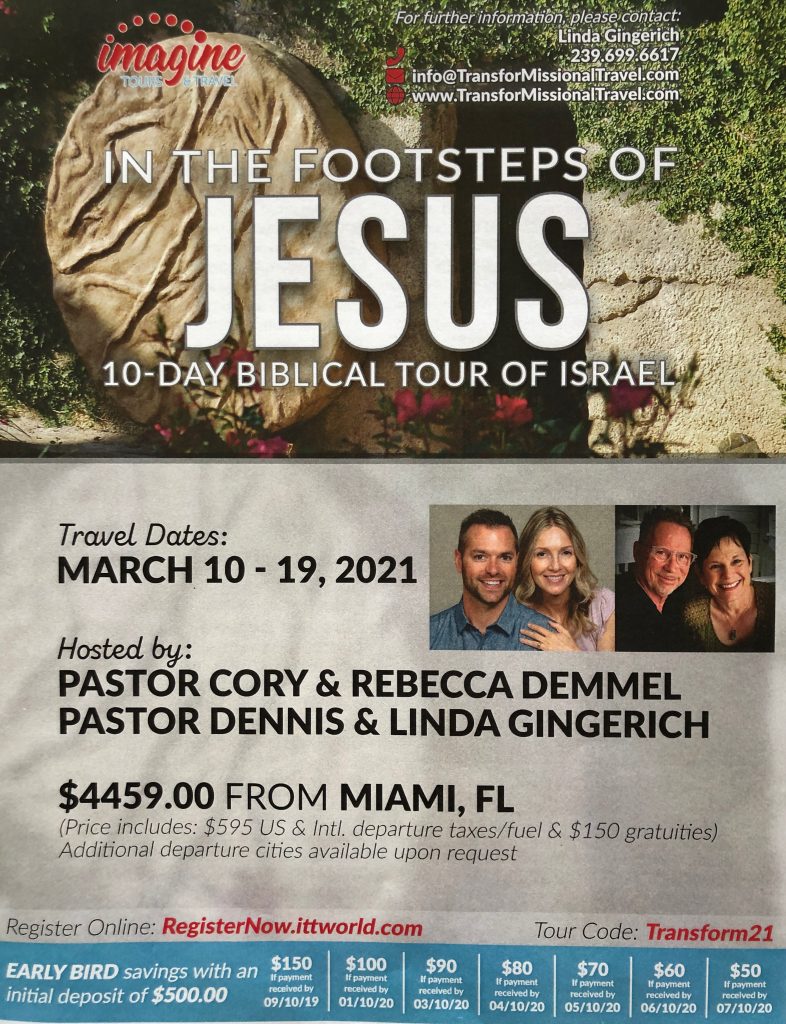 2022 Israel/Jordan – The registration list is growing. We have 20 deposits already in and a lot more who are interested. So let me remind you, before COVID19 hit, we had our tours filling to maximum capacity 18 months in advance so we encourage you to get your deposit in early. This 2022 tour will be unique in that it is 11 days (usually 10) in Israel with an optional 3-day extension to Jordan. The 11 day schedule allows us to have a more relaxed restful day and overnight stay at the Dead Sea. Take a look at the detailed itinerary on the Upcoming Tours page at this site.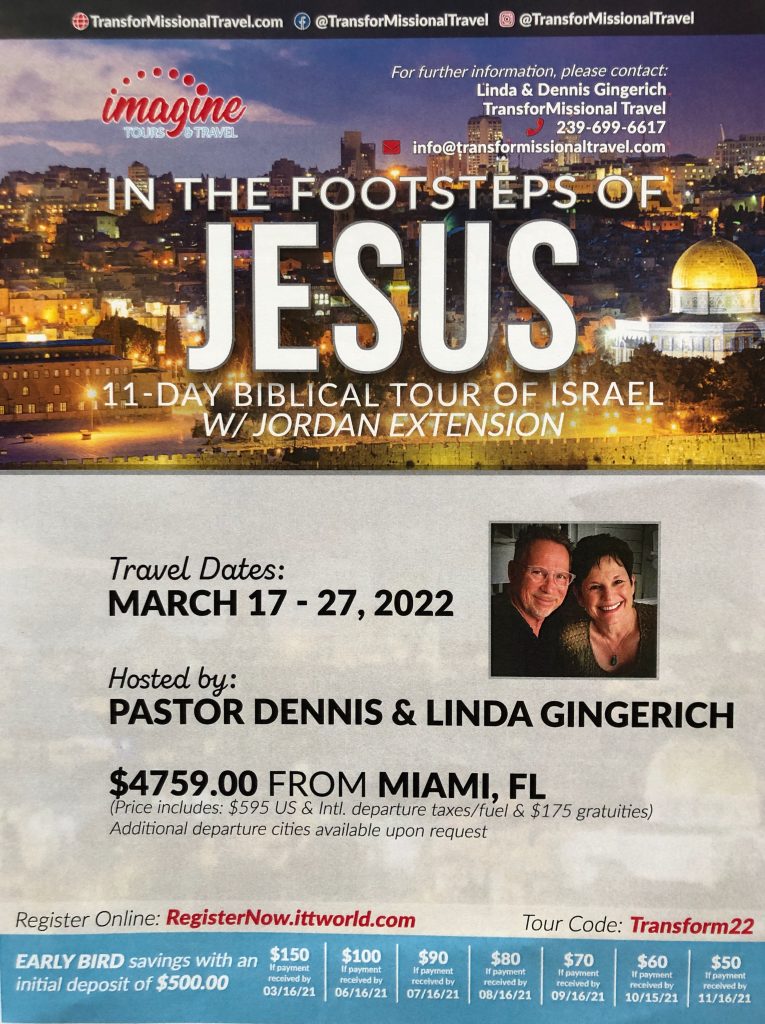 2022 Germany/Switzerland – This is the rescheduled tour that was originally planned for June 2020. There are only 7 openings left out of the total of 35. So, don't delay getting your name on the list with a deposit.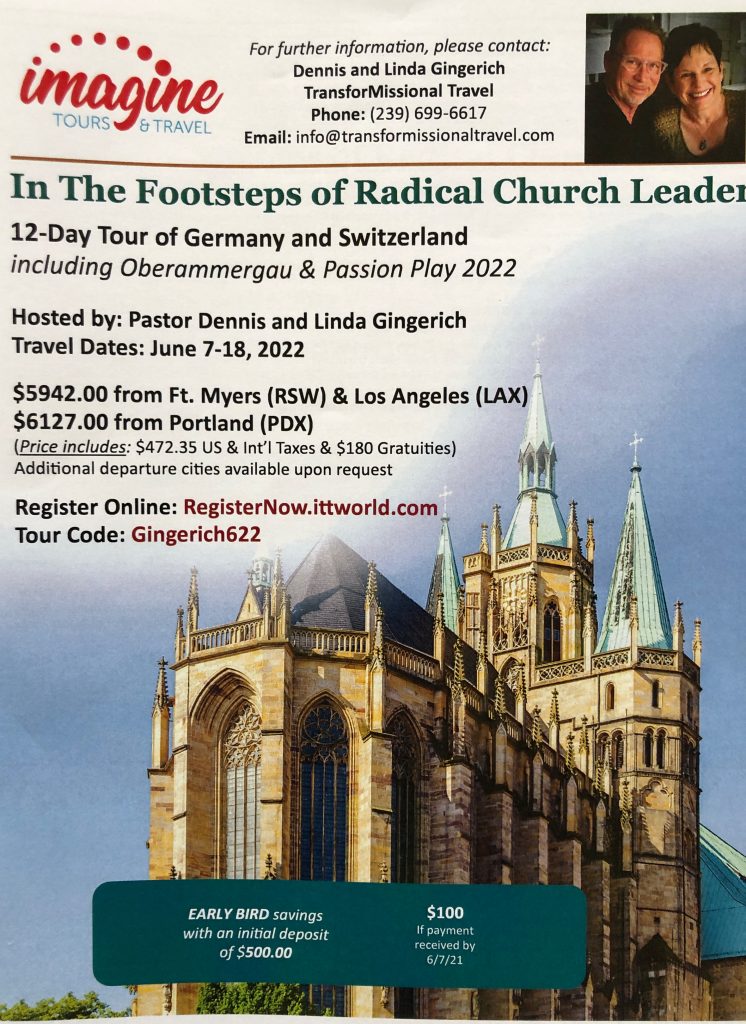 2023 Greece/Turkey – This amazing tour to Greece, (including a 3-day Greek Isles cruise to incredible locations like Turkey, Santorini, Mykonos, Crete and Patmos) already has registrations. Again, plan ahead and reserve your spot if you are interested. It only takes $500 to hold a place for you. We have hosted multiple "Footsteps of Paul" tours and this is always a popular one. And a big bonus on this trip is that is will be co-hosted by Pastor Cory and Rebecca Demmel!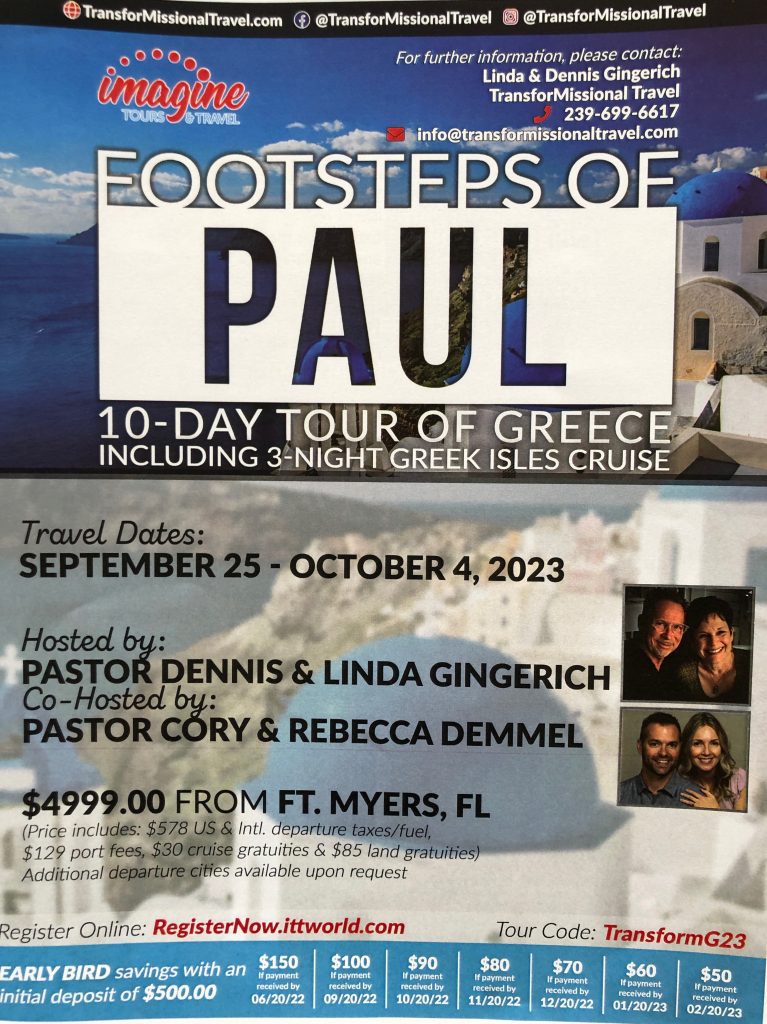 Our Thoughts on Traveling. Linda and Dennis have made three trips over the summer months. We flew to Oregon to see Dennis' family at the end of June and over the beginning of July. We flew to Alaska in mid-August and spent 8 days putting on 2,000 miles on our rental car, driving from north to south, east to west. We bought the airline tickets back in April while quarantined in our home. After all, who can resist $414 roundtrip tickets from SW Florida to Anchorage, Alaska. We did need to get a COVID19 test before going but at least we knew everyone on the plane coming into Alaska was negative. In late September, we flew to Philadelphia for a small (7 couples) reunion of college friends. After the reunion, we even went into New York City and spent a night on Time Square at a beautiful hotel for $100 (including parking) before flying home. Our point is, we have been traveling. This coming week, Dennis is going to Dominican Republic on a 4-day mission/vision trip, the first international travel since the pandemic began.
We Feel Safe to Travel Again. We of course keep our distance, wear masks, and use lots of sanitizer. But over the above trips we've taken since the pandemic, our preferred airlines (Delta) went above and beyond in keeping everyone safe. We understand, not everyone has the same tolerance for risk that we do. We are calculated risk takers. But we share our experiences as seasoned travelers to let you know we are ready to lead you in safe travels as soon as the international borders open up. If you are not registered for one of our transformissional tours, take a look around at the options on the Upcoming Tours page and we hope you will consider joining us. Let us know if you have any specific questions. We are here to serve you!