Everything is finalized and brochures are arriving in a couple days! We have a March 1-17, 2024 trip to Israel scheduled and open for registration at this link. Use the Tour Code Transform24. You can also choose to download an electronic brochure from the above link. If you would like a paper brochure mailed to you, please send us an email at info@TransforMissionalTravel.com and give your mailing address.
The additional good news is that the above 2024 Israel trip will also have the option of a 3-Day extension to Jordan. So, make sure you take a look at the Upcoming Tours section of this website and you can find all the details there.
Let me remind you. Our tours fill up. The 2023 Israel trip is already at its max of 45 travelers. So, don't hesitate too long. A deposit of $500 will hold your spot on the tour and you won't owe anything more until 90 days before the trip, December 7, 2023. So you have over 18 months to save up for this trip before it needs to be paid in full.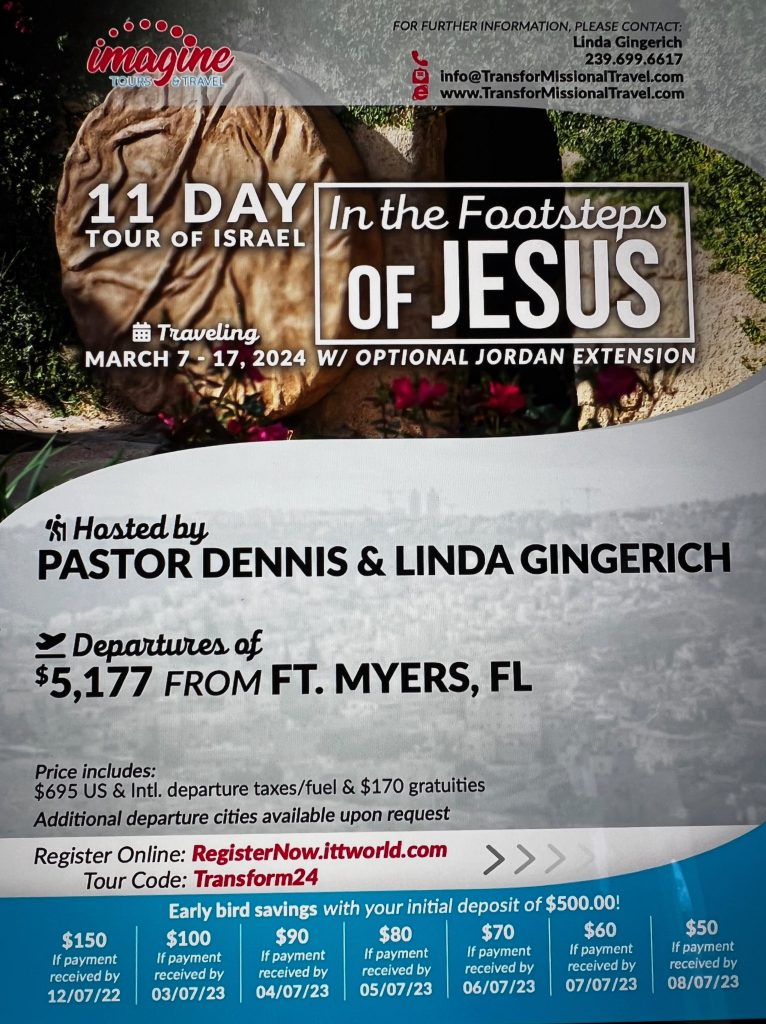 And one more thing. Maybe you have already travelled with us or someone else to Israel. Let me remind you that we also host "Footsteps of Paul" tours to Greece and Turkey. Our next scheduled tour is in the Fall of 2023 and there are still openings. Again, you can go to the Upcoming Tours heading on this website and all of the details and the registration link can be found there.
Make sure you share this information with your friends or family who might be interested in joining you. Every tour we host always includes travelers from seven or eight different states who have heard about it through a friend or family member and want to join a life transforming travel experience. We are here to facilitate your dreams and checking off your bucket list. Let us know how we can serve you!
Your Hosts, Linda & Dennis Gingerich