05/15/18 – Israel update
Dear Friends,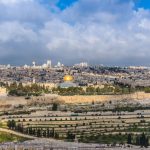 The past few days have certainly made history with the US officially relocating its embassy in Israel from Tel Aviv to Jerusalem on Monday, formally upending decades of American foreign policy in a move that was met with clashes and protests along the Israeli-Gaza border. You've read or watched in the news or social media, that at least 58 Palestinians were killed and more than 2,700 injured in Gaza as deadly protests took place ahead of, during and after the ceremony in Jerusalem, making it the deadliest day there since the 2014 Gaza war.
The violence continued today, when Palestinians mark what they call the "Nakba," or Catastrophe, in memory of the more than 700,000 Palestinians who were either driven from or fled their homes during the Arab-Israeli war that accompanied the creation of the state of Israel in 1948. On Monday, which marked the 70th anniversary of the founding of the state of Israel, US and Israeli leaders hailed the embassy move as a sign of the enduring relationship between the two countries and of US trustworthiness. American officials said it could create an honest foundation for an eventual peace agreement between Israelis and Palestinians. We do believe that peace will prevail in the days ahead in spite of the past few days events.
 With this excitement, we've been asked what's happening in Israel in respect to safety, tourism as a whole in Israel, and what can we expect in the future. I'm glad you asked.  
 I personally have been speaking with our partnering offices in Israel two to three times a day to ensure we are receiving updates on the present condition and safety for our groups that are presently in Israel. To be quite honest, outside of the media, our groups would not even know that events are taking place in Israel with the exception of those events taking place along the Gaza area. Our tours NEVER go near Gaza and we are also very careful to avoid any other potential hot spots in the country. The safety of our travelers is always our number one priority!
Life is continuing as normal in Jerusalem, the Galilee region, Tel Aviv, and beyond. In the north, the only area off limits for visitors is Mt. Bental – all other areas in Israel are presently open for groups to travel throughout the country. We do have quite a few groups in Israel now, including a group of 92 travelers that has been providing us with updates throughout the day. They have shared that their group (2 buses) has not had any changes from their scheduled itinerary, and they have been able to go throughout the country without any issues or concerns. The group is now in Jerusalem, and everything is normal! In my communication with one of our tour leaders in Jerusalem, he shared that the only change he and his group noticed was many of the shops in the Old City, Arab Quarters were closed today, other than this, all the major sites were open and the group went along with its travel plans as schedule and without any issues or concerns.
This type of news from Israel is unfortunately neither new nor unexpected. These tensions have been a sad part of life in that area of the world for many generations. And having traveled to Israel over 100 times myself, I can honestly say that these reports are usually made to seem worse than reality. This is not to make light of any situation there, but to lend perspective that typically without watching the news, those traveling in Israel may never find out about such incidents.
Security is at an all-time-high right now, thus making it one of the safest times to travel. While on tour, your guide and driver are constantly in communication with the local authorities to avoid any area that may be considered unsafe. If anything changes, we will continue to work closely with our partners in Israel to advise you accordingly.
Best regards,
Rick –
Rick Ricart
imagine the possibilities!
Faith is the an·ti·dote to Fear!
Rick Ricart  |  President  |  imagine Tours & Travel  |  4740 Cleveland Heights Blvd., Ste.  #2  Lakeland, FL. 33813  |  Ph: 863.709.9208  |  Cl: 407.474.6043  |  Fx: 1.866.262.9507 | www.ittworld.com