How I Now View Israel's Mt. Carmel
Mt. Carmel, the mountaintop where Elijah dramatically proved the Lord is God in a competition between himself and 450 prophets of the idol Baal. Whose god would answer their prayer requesting fire from heaven to burn their altars of worship, proving the one true God?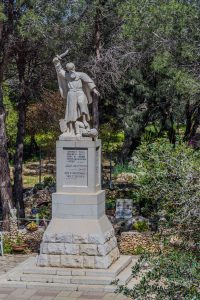 The prophets of Baal prayed, cried and cut themselves begging Baal to send fire from heaven, calling out from morning until noon without any answer. Elijah's turn… a simple prayer to God asking Him to show up…And fire fell from heaven, not only consuming the sacrifice, altar, stones and dirt, but the water laying in a trench dug around the altar.
Who could doubt a God like this? Elijah himself. Elijah, used by God in the greatest show-down in history, found out King Ahab's wife Jezebel wanted his life for the lives of the 450 prophets of Baal whom Elijah single handedly killed after the big win. And Elijah ran, scared for his life.
1 Kings 18-19 tells the story of Elijah literally running from Mt. Carmel, in northern Israel to Mt. Horeb, the "mountain of God" in southern Israel, where the 10 Commandments were given to Moses from God. That is a distance of 280 miles!
Weary and exhausted, Elijah hid out in a cave. Elijah was depressed!
Have you ever "hidden in a cave" after an amazing demonstration of God's power in your life?   You KNOW He is able to handle any problem. Yet your human condition allows your greatest fear to consume you. You quit eating healthily. You over-exert yourself, not creating "margin" in your life. You can't sleep. You are physically and emotionally exhausted. You try to figure out a solution on your own.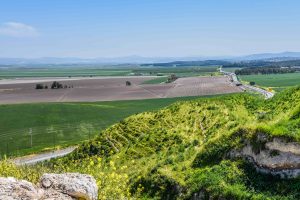 1 Kings 19:9 says the Lord came to Elijah, hiding in the cave and he asked him, "What are you doing here Elijah?" Three times, the Lord asked Elijah, giving him a chance to reflect on his choices. But three times, Elijah whined, telling God what happened on Mt. Carmel…all Elijah did for God, proving he existed.  He even killed the 450 Baal prophets on God's behalf, and now they were trying to kill him too! (Did God need reminding that he himself was present on Mt. Carmel…actually IN that fire?)
What followed surprised Elijah. God showed up again! He told Elijah that he was about to pass by, so be on the lookout! First, a great powerful wind…God was not there. Second, an earthquake…God was not there either.   Third, a fire…but wait! No, God was not in the fire this time.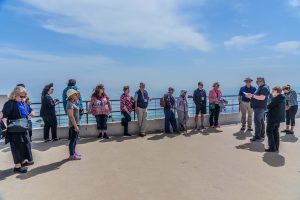 After the fire came a gentle whisper! Elijah recognized the voice of God! And what was the ever-so-peaceful divine advice God gave Elijah?   "Go back the way you came from!"  And once you arrive, do what I wanted accomplished in the first place. Anoint a new king over Israel. And, find someone who will succeed you as prophet. In other words, "I want to use you to create a new beginning for Israel. But you can't do all it all on your own! And, I will do it through you!"
Every time I stand on the top of Mt. Carmel, viewing the beautiful Jezreel Valley below, I am reminded, I don't want any detour in my life to become my final destination. Struggles have come and will continue to come in this life. But with reliance on God's presence, my struggle does not need to become my identity. And I often hear God whisper in uncommon, unexpected ways, "I am here."
A TransforMissional Learning Thru Travel
Linda Gingerich